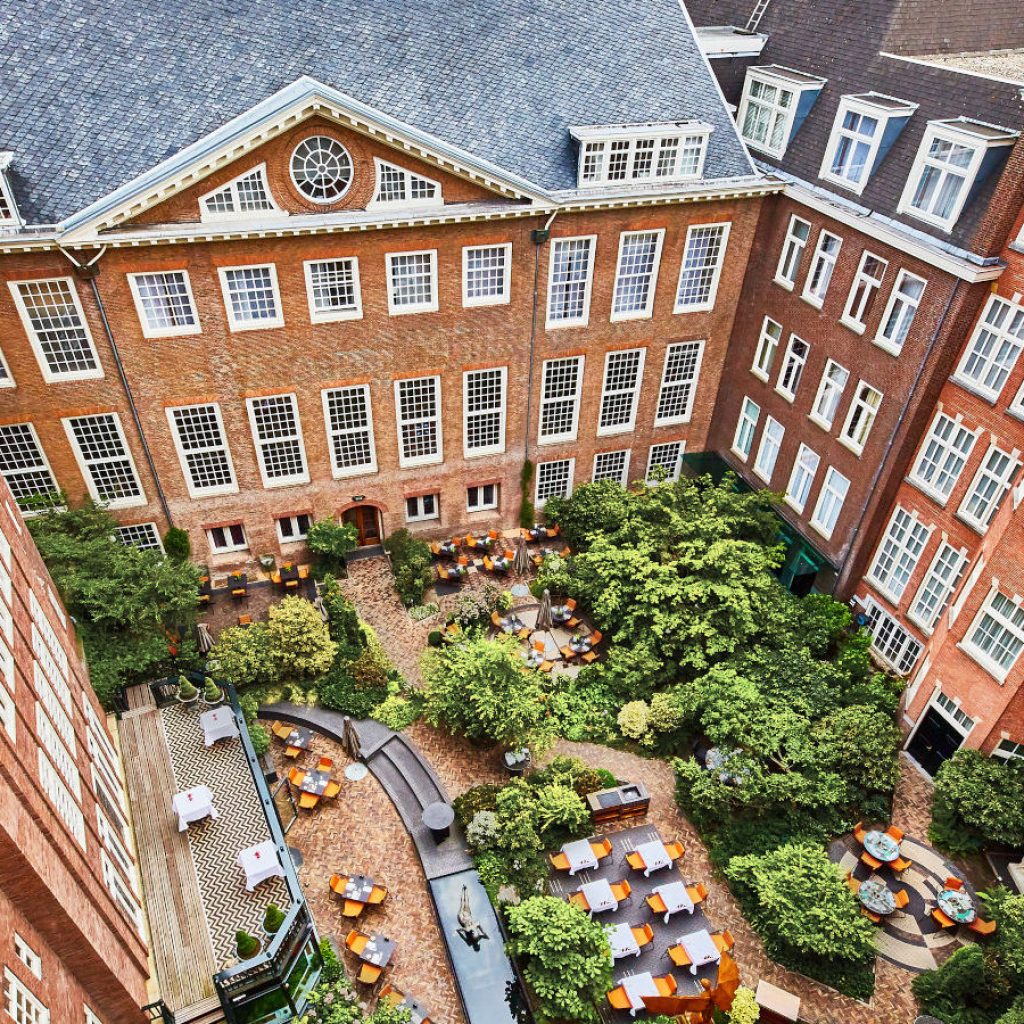 Sofitel Legend - The Grand Amsterdam
EIB introduces the locations of the 95th EUROCONSTRUCT Conference
Conference venue
Sofitel Legend The Grand Amsterdam
The history of The Grand's building begins in 1411 as two monasteries: St. Catherine's Monastery and the Cecilia Monastery. At the time, Amsterdam had many monasteries, whose designs were characterized by courtyards and walled monastery gardens. In 1578, after the Reformation, Protestantism was adopted as the official religion of Holland; monasteries were taken as property of the city. The Cecilia Monastery was turned into a lodge called "Princenhof", and it was used as a lodging for high-ranking guests of city officials, such as European royalty.
The Princenhof has served many different roles over the centuries. In 1992, the building was converted into hotel Sofitel Legend The Grand Amsterdam. No expense was spared to renovate and restore the exceptional property. During the restoration, the Princenhof retained the atmosphere of the past, with walls decorated with reproductions of French and Dutch coats of arms and portraits of the Dutch nobility.
The Grand's 600-year-old rooms provide a unique setting for the 95th EUROCONSTRUCT Conference. 
The conference will be held in room "The Prince" overlooking the courtyard garden and the typical canal houses of Amsterdam.
The House Bartolotti is one of Amsterdam's best-preserved canal houses. House Bartolotti was built around 1620 by order of the wealthy banker-merchant Willem Bartolotti van den Heuvel. It was one of the largest merchant's houses in the city. The merchant's house was most likely built to a design by the Amsterdam city stonemason Hendrick de Keyser. 
Hear stories about the architecture, history and inhabitants of House Bartolotti during a guided tour. But above all, experience the beautiful canal house yourself. Sit on the chairs, look in the cupboards and take a walk through the beautiful deep garden.
After the guided tour you can join us in the front room for drinks and appetizers and subsequent dinner in the great room.