The Euroconstruct February 2020 post covers three construction-related topics: the current outlook compared to the previous 88th Euroconstruct forecast from November 2019, a policy change for housing renovation, and future transport infrastructure.

The economic outlook for the Danish construction
Since the November 2019 Euroconstruct Report, there have been periods of increasing pessimism regarding the world economy but also renewed optimism.
Yes, Brexit happened, but at least the rules won't change this year. While Brexit was expected, the uncertain future of EU-UK relations entails both upside and downside risks, compared to the forecast in the report. The same applies to the seemingly permanent Trump-related risks to the global trade system.
The Coronavirus outbreak is a new uncertainty. Human tragedies aside, there will be considerable short-term effects on the Chinese economy – and possibly the global – but at the time of writing, medium-term repercussions on Danish construction remain speculative.
Regarding the domestic economy, the forecast remains guardedly optimistic. Thus, the construction forecast for the next years remains positive; the present estimate is just over 1% growth in building construction in the next years, and a bit lower in civil engineering.
Changes to the rental housing market
As mentioned in the recent Euroconstruct Report, political action against certain types of residential renovation seemed likely. This did indeed happen.
Rent regulations combined with inflation and urbanisation created tensions in the market. While rents are market-based for post-1992 residential buildings, rents in older buildings are regulated. This means that some tenants pay the market rate (ever-rising in cities as urbanisation continues), while more fortunate tenants have large, attractive pre-1992 apartments in good condition. What was intended to create social justice has in some cases done the opposite, with well-off people living in good, cheap flats while newcomers to the market (e.g. immigrants, students or divorcees) have had to pay much more for smaller, less attractive rentals.
Also, regulations often left little incentive for renovation, except when rents were set free, i.e. when tenancy changed and renovation costs exceeded a certain threshold level. The debate has focused on investor morals: 'Bad' investors bought old, rent-regulated properties cheaply, did a poor job on R&M making life uncomfortable for present tenants ('shaking the building'), occasionally bribing tenants to move out – and gained fortunes when the next tenant(-s) had to pay market rates, even though quality not had been raised significantly by renovation. Regulations should be changed to avoid this.
Raising rents by more than actual renovation costs (incl. amortisation etc.) could be made illegal – but then the value of rental properties would fall, detrimental not only to large investors but also to the average family with a retirement fund invested in this field, to owners of co-op housing (e.g. an apartment building co-owned by the residents) and others. And in any case, 'sensible' (however defined) renovation projects should still take place.
After a lot of political posturing, new regulations were agreed in Parliament at the end of January 2020, inter alia: The threshold level of investments required for raising rents has been raised, while only investors who hold the property for at least five years may benefit – unless energy savings are sufficiently large, in which case this period of grace will not apply – and other changes. The changes should cause a moderate decline in property values, but there are some modifications to ease the transition for co-op housing.
What will be the outcome of this? There'll be more focus on energy savings, and renovation projects will become a bit fewer, but more costly (more euro/m2) due to the higher threshold level for raising rents. Also, tenants may in more cases opt to form a co-op to buy the property. But several of uncertainties remain, including considerable uncertainties about the future taxation of central city properties. In any case, it is too early to estimate how various categories of investors adjust to the new set of rules (including innovations to circumvent them). Thus, further consequences may appear in the next years.
Present & future transport infrastructure: A €10 bn. bridge coming up?
Transport by road or rail has increasingly replaced slower, sea-borne transport as bridges were built. Some of the most significant fixed links (bridges or tunnels) are shown in the map: existing, in black; one under construction, in green; and one under discussion, in yellow.
An infrastructural plan was prepared in spring 2019, but there's been a general election, a change of government and a change of priorities since then. A new plan must support the overall priority of reducing CO2 emissions by 70% in 2030. Another goal is to increase growth in provincial areas, which necessitates infrastructural expansion.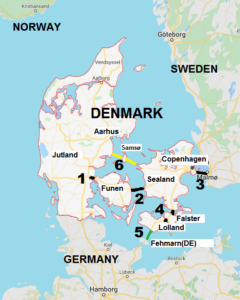 At positions 1 & 4 in the map, there are road & rail bridges from the 1930s plus new motorway bridges (The old bridge at 4 is being replaced, a new bridge opens 2022).

Road & rail links at 2 and 3 totalling 33 km opened 1997-2000, enabling both road and rail links from Germany to Sweden through Denmark. The present route (1-2-3) entails a very considerable detour, however.

The 18 km road & rail tunnel at '5', planned to open 2028, will offer much shorter, faster links Germany-Copenhagen-Sweden (5-4-3). Preparatory works have started.
On the main link from the Copenhagen region to Jutland, rail capacity is being upgraded (new signalling systems, new trains and new tracks), but both road & rail links remain vulnerable to a ship collision – and (even) more capacity will be needed.

Route '6' is now discussed: bridges or tunnels totalling 39 km meeting on the island of Samsø, shortening transport between Copenhagen and Aarhus (and Northern Jutland) by over 100 km.

A road bridge should be commercially viable, while this is less likely for a rail link.
Proponents of road-only argue that as drives are shortened, electric cars become widespread and air transport is replaced by driving, CO2 emissions would decrease, while adding rail is too expensive (roughly 16 vs. 8 billion euro).

However, the cost of including rail could be far less. If designed for fast, lightweight passenger trains only, single-track rail with a double-track section on Samsø should provide sufficient capacity – much cheaper than a standard two-track rail design for heavy freight trains. This is likely to gain political support. (But will autonomous cars make trains seem irrelevant by 2040?)

Analysis of the 'Samsø' link will last some years at the very least, but as the potential benefits are large (environmental, economic & national cohesion), a political agreement may not be all that far off. Work could start late in the present decade; there's a potential €10 bn. contract awaiting you!