Buildecon, the Hungarian member to EUROCONSTRUCT, is also the founder and Research Centre of EECFA (Eastern European Construction Forecasting Association), an organization publishing construction forecast bi-annually on 8 Eastern European countries (Bulgaria, Croatia, Romania, Russia, Serbia, Slovenia, Turkey, Ukraine). The latest EECFA Construction Forecast Report was released in December. We have revised our forecast downwards across the board, which I have summarized in this post. Full reports can be purchased, and a sample report can be viewed at www.eecfa.com.

In many previous forecast rounds we argued for a soft-landing scenario in Turkey. However, the dramatic fashion of the currency depreciation in summer 2018 unearthed many structural problems of the construction industry and has made us revise our forecast to an even more pessimistic one. Unlike the stop-and-go like reactions to previous crises, we tend to believe in a stop-and-stay scenario this time. In Russia, we are less pessimistic thanks to a recently announced governmental program expected to affect the market positively.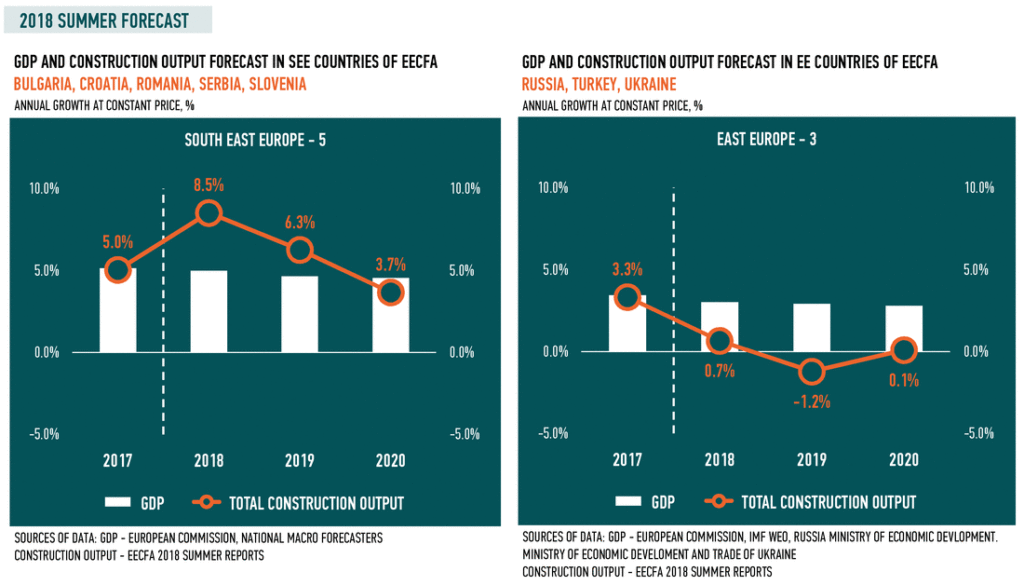 Optimism still prevails in the Eastern and Western Balkan countries of EECFA. For the region as a whole the new forecast sees just a little downward revision. However, on country level, the stories are different.
Less optimism in Croatia and more optimism in Serbia and Slovenia compared to the previous forecast round. In Romania, the largest construction market of this region, the outlook of the building construction submarket has been adjusted downward.